Science
Science at Plaistow Primary School is focused on exploring together in order to learn about our world.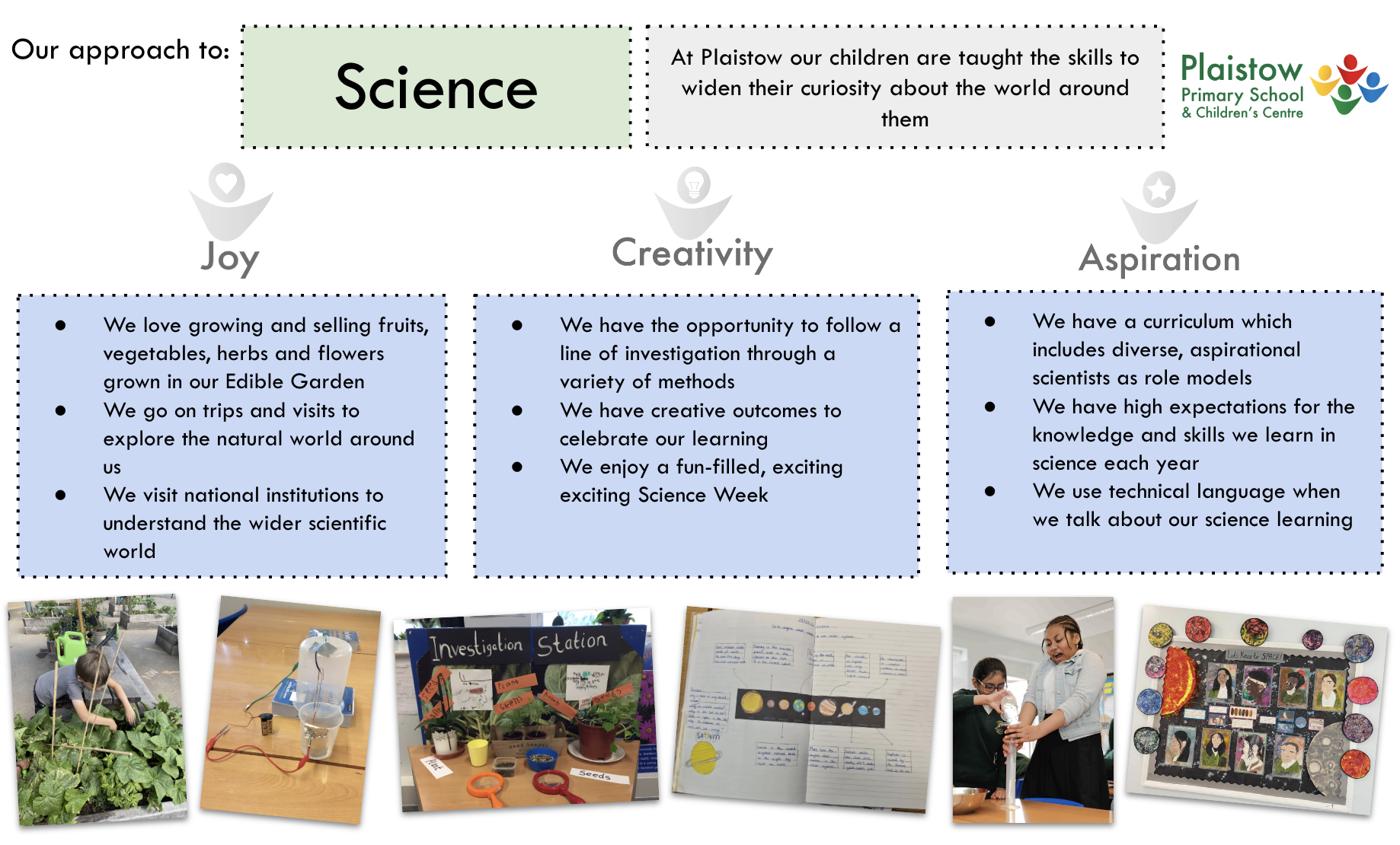 Working Scientifically is at the core of our science curriculum and provides children with the tools they need to ask questions and find answers. We inspire our children through hands-on practical exploration, where children take ownership of their science learning journey. Plaistow Primary School is committed to increasing children's science capital, so they are confident working as scientists and feel a connection to our world.
Working Scientifically specifies the understanding of the nature, processes and methods of science. Throughout their time at Plaistow, children will learn key scientific knowledge and skills through carrying out investigations, which involve the following different types of inquiry approaches:
Observation over time

Identifying and classifying

Pattern seeking

Research

Comparative and fair testing
Our science teaching aims to:
Nurture children's curiosity and encourage asking questioning and finding answers
Enable children to devise their own enquiries, by giving them competence in the full range of practical skills
Provide children with the ability to use scientific vocabulary to express their thoughts and ideas confidently in both verbal and written expressions
Give children regular opportunities to collect, represent and analyse scientific data
Allow children to understand that science is ever changing as technology advances and to critically evaluate scientist's findings
Ignite a passion for science and an appreciation for its benefits to the world in past, present and future applications
Our subject progressions are bespoke to Plaistow. They have been compiled with reference to national and international bodies and organisations of which our school has membership to:
Plaistow Primary School Progression in Science
Be sure to look at our curriculum maps and knowledge organisers for more information about the science knowledge and skills being taught in each year group.