Nursery Admissions
Thank you for enquiring about joining Plaistow Primary School Nursery. We would love to show you around our Nursery. Please call or email the school to arrange a visit!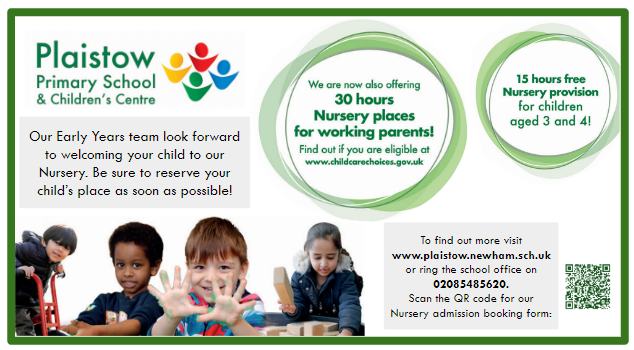 Our Nursery application form is online and can be found by clicking here. Once you submit your form a member of our team will contact you to arrange an admissions interview.
Children begin with us when they are three years old depending on available Nursery spaces.
Our Nursery sessions run from Monday - Friday.
Carle Class: 9:00am - 12:00pm
Adeola Class: 12:30pm - 3:30pm
30 Hours Nursery Places
We also offer 30 hours Nursery places for working parents. This means children are with us both in the morning and afternoon.
If your child is eligible for a 30 hour place you can apply using the form below.
Click here for further guidance, advice and see if you are eligible.

30 hours sessions run from 9:00 - 3:30 pm Monday - Thursday and 9:00 - 12:00 pm Friday.

If you would like your child to attend nursery all day on a Friday, there is a small top-up fee of £2.00 per child per week.