Physical Education
We believe that all children at Plaistow Primary School should experience a high quality physical education. This includes accessing a wide range of sporting activities which will lead to a lifelong passion for health and fitness.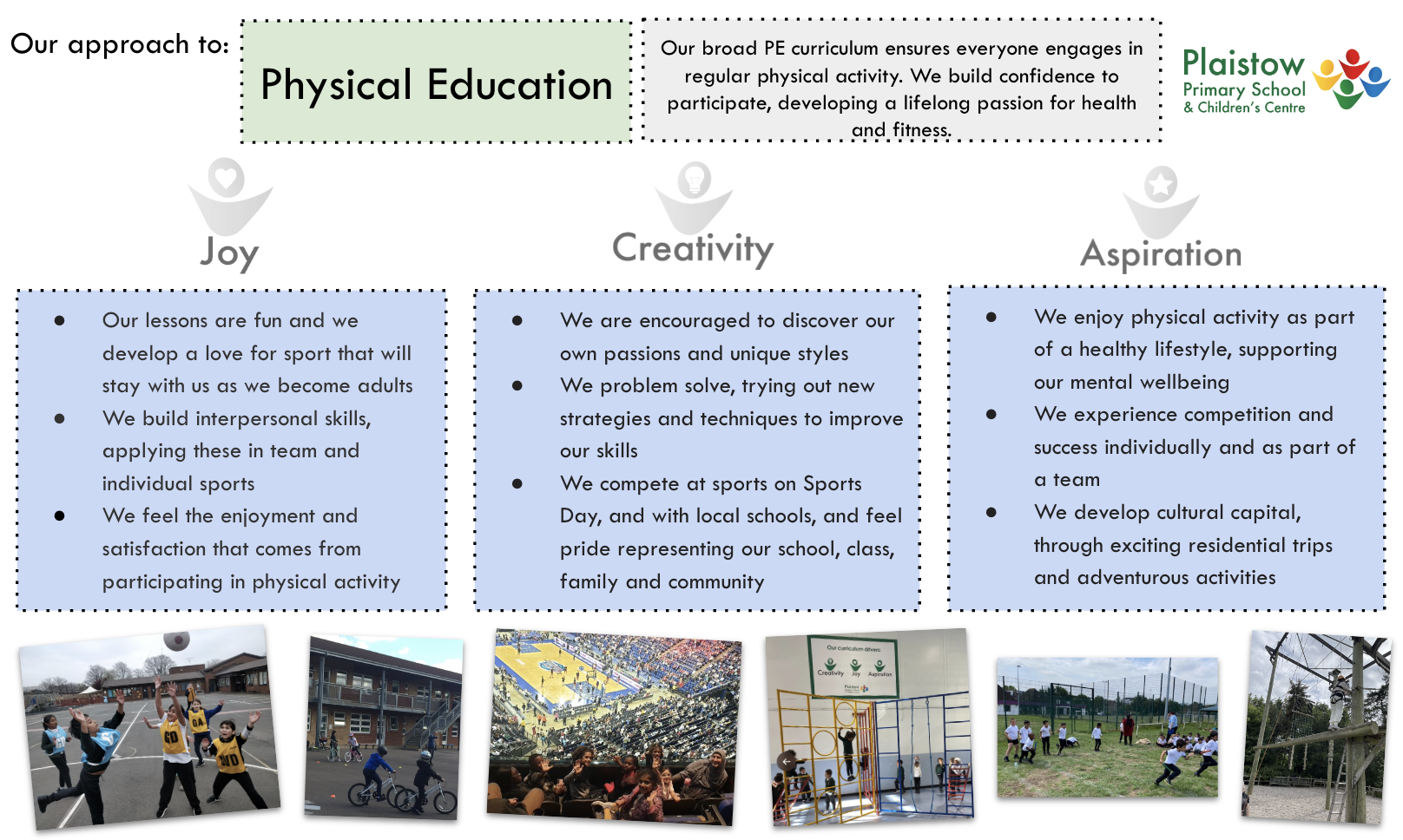 Our school values underpin the PE curriculum. Joy, Creativity and Aspiration underpin each sporting or physical activity that children and adults participate in at Plaistow.
Joy
We strive to give all children the opportunity to participate in and enjoy a variety of competitive sports during their time at Plaistow. We ensure that children understand and experience what competition feels like, both as an individual and as part of a team. We teach children to enjoy the process of competing in sport, explicitly teaching skills in good sportsmanship and fair play.
Aspiration
We teach and expect our pupils to have high aspirations for themselves and others when it comes to sport and physical activity. We instil the values of leadership in our children and give them experiences of playing leadership roles in the sports and activities they participate in. This provides children with the understanding of what it is like to have responsibility, to show respect for rules and brings the added challenge of organisation, communication and teamwork.
Creativity
We are continually working towards improving the delivery of the teaching and learning of PE in order to promote participation, progress and performance in every child. We encourage children to discover their own passions and unique styles in sport and physical activities. We encourage children to problem solve in PE, trying out new strategies and techniques to improve their skills.
Partnerships
At Plaistow we aim to develop links with outside agencies and local schools, which helps to enrich our pupils' experiences as well as generate positive interactions with the wider community.
We are proud of our partnership with Premier Sports which provides us with high quality curriculum PE sessions as well as lunchtime and after school club provision.
Our school recognises the impact that the provision of a high quality PE and school sport curriculum has on the whole school and that it can lead to whole school improvements.
Key Aims of the PE Curriculum
Through PE and sport at Plaistow all children will:
Have an increased confidence, knowledge and skill across a wide range of sport and physical activity
Be engaged in regular physical activity
Have a broad experience across a range of sports and activities
Have an increased level of participation in competitive sport
Understand how sport and physical activity leads to healthy lifestyle that leads into adulthood
Learn about fairness and respect when it comes to sport and physical activity