Reading in the School Community
We love reading at our school and aim to create an environment which fosters of love of books in our children, staff and families.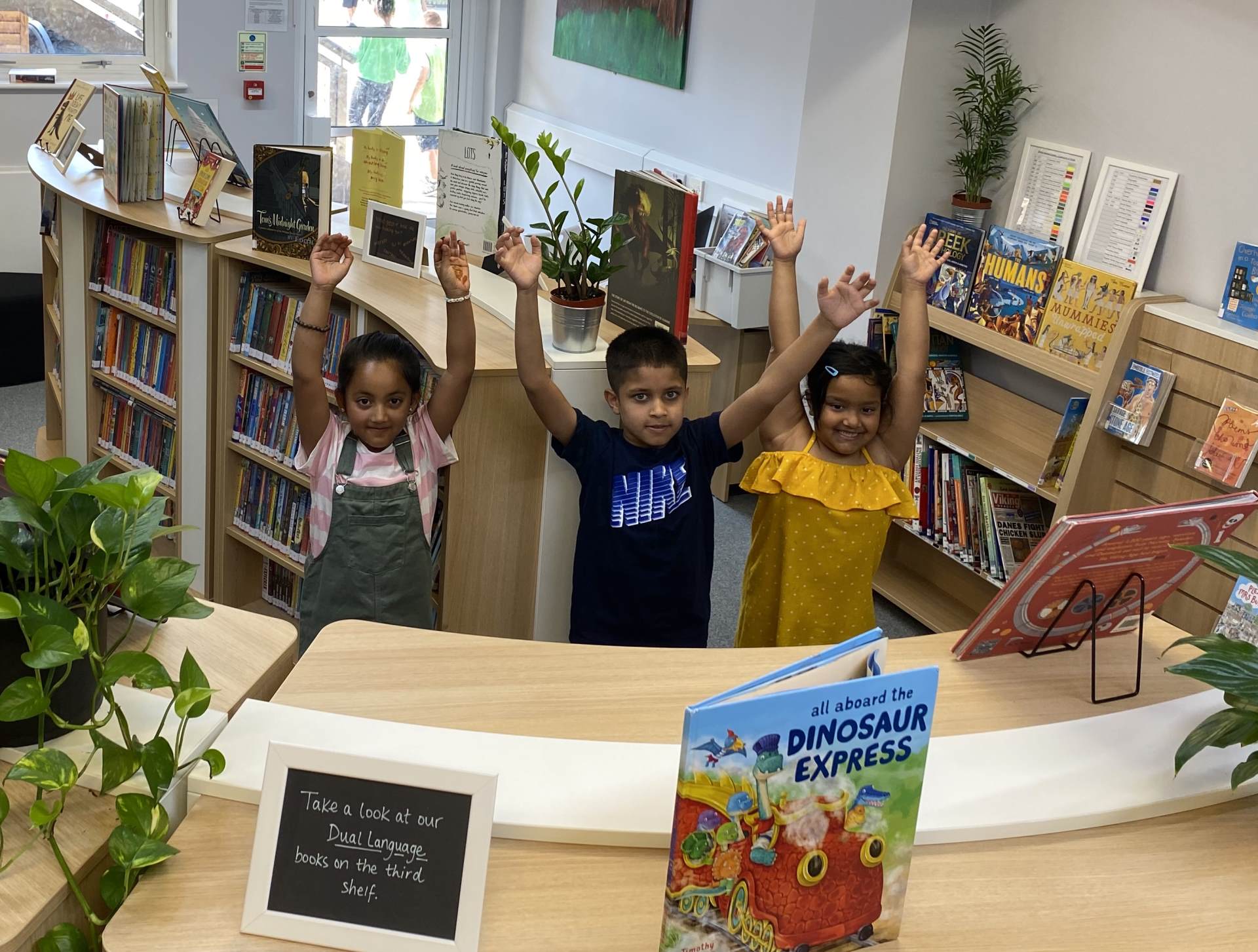 At Plaistow, we don't see reading as a stand alone subject.
Our curriculum is rooted in beautiful, high quality texts and we see reading as a the key to unlocking a world filled with learning.
Plaistow School Library
Our school did not have a library for many years! We built our library in 2022 and we love spending time in it.
We have new books being stocked in our library all of the time. These come the Redbridge Schools Library Service as well as books we buy ourselves as a school. As a school, we invested heavily in new books for our library, book corners and to enrich our curriculum. We believe that our children deserve high quality literature in order to inspire, learn and enthuse.
Each class gets to visit the library at least once a week.
The space is open at lunchtimes for our children to enjoy as well.
Our Outdoor Reading Area
We love reading both inside and outside on the playground!
Our outdoor reading shelves get wheeled outside everyday at lunchtime for our children to enjoy.
Children can enjoy reading in the Edible Playground on their own or with friends.
The Reading Atrium
We are proud of our Reading Atrium. Our carefully curated bookshelves outside the dining hall change regularly and our children enjoy reading at lunchtime!
Prize Bookshelves
We love giving prizes for amazing behaviour choices, recognising success along the learning journey or winning competitions.
Instead of stickers and stamps we celebrate with books from our prize winning bookshelves.
Our book shelves are restocked regularly to enthuse and excite our book loving children!
Book Shelves and Book Corners
Each classroom at Plaistow has a book area of a class set of book shelves for our children to read and enjoy.
Children have time to read, update reading records, have an adult listen to them read and change their book each morning when they come into school.
Class book shelves are changed regularly and are expertly curated by teachers based on books their children are enjoying at the time.
Visits to Plaistow Library
We take advantage of the fact that Plaistow Library is right around the corner. Every class gets to enjoy frequent visits to the library.